Three of my FAVORITES are having Weekend Sales *smile*
Alright, when three of your absolute favorite homeschool resources have great sales all in the one weekend… you just have to share. Even if you really don't love sharing 'sales'. This is kind of worth letting you in on, friends!
Um, I love NaturExplorers so much that I have an entire tab devoted to them… click here to read more. *smile* Here is my official review of Coping with the Cold (an AMAZING Winter Nature Study!!!)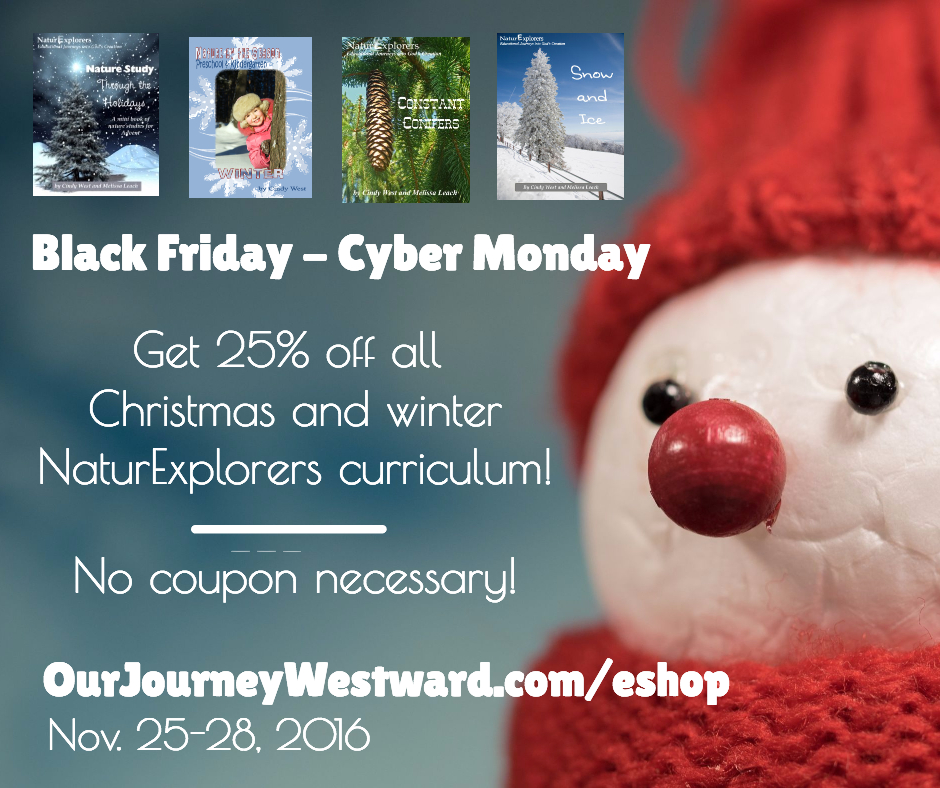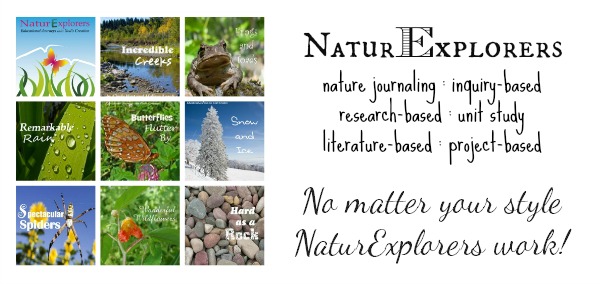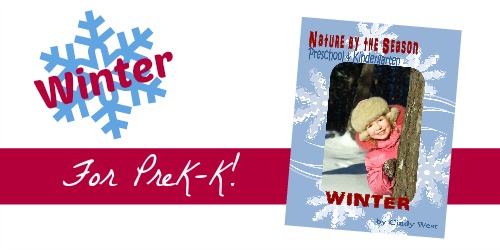 Use the coupon code: givethempie
And last, but not least, NotebookingPages.com Cyber Weekend Sale…
Alright, for those of you who know me – you know I love Notebooking! I have really enjoyed and benefited from our Lifetime Membership at Notebooking Pages.

This weekend, memberships are on sale for $25 off. Just thought I would share this sale and show some of the ways we've included Notebooking in our homeschool over the past few years!
Have a great weekend, friends.



Here are some of my past Notebooking Posts:
Photos of our past Notebooks –
What our Notebooks looked like at the beginning of the year.
What they looked like at the end of the year. *smile*
A Bunch of Alex's Pages (he's 7):
On the right are some of my pages that I created to go along with Charlotte Mason Geography! I can't wait to share them with you all… now I'm motivated to get them done.
Some of Simon's Pages (he's 10/11 here):
Bible Road Trip page on the left and some home-made Proverbs copywork on the right. I used the Web-App on NotebookingPages.com to create them.
One of the things my son EXCELS at is Lego. I mean, this boy can build. He mostly creates things completely out of his imagination or using pictures and then completely creating the Lego design on his own. (Like his Taj Mahal and other famous bits of architecture on the right.) We decided to take photos of his Lego creations and add them to his Notebook.
A Bunch of Audrey's Pages (she's 8/9):
More Notebooking Pages I created to go along with Long's Elementary Geography.
This is an example of oral narration turned into a written narration. The child can orally narrate while you write down what they say – then they can use that as copywork for a Notebooking page.
Home-made poetry copywork page. These are life-savers when I have nothing prepared for copywork.
More Notebooking Pages we've created that were previously uploaded:
My son's pages from the I AM CANADA series. I absolutely LOVE these. He orally narrated, I typed. Then we put together visually pleasing pages to reflect his learning.
Typed oral narration.
Basic Draw Write Now lined page. We use these like CRAZY for younger learners.
A 7-year-old's oral narration.
An example of a bit more creative oral narration – we created a newspaper article.
Home-made poetry pages.
Charlotte Mason Geography
A Couple Questions You've Asked about Notebooking:
"Do you print out all the Notebooking Pages ahead of time?"
But I would look at our week ahead and think about what would be great for Notebooking – then look for appropriate pages and print them out at that point.
The only exception to this is basic Notebooking sheets (generic ones that can be used for anything) and also copy work pages. For example, I had a pile of poetry copy work pages that my daughter could choose from at any point throughout the year. This was helpful for her, since she actually enjoys copywork and went through them rather quickly. I also had lots of blank notebooking sheets that fit the format for Draw Write Now, that my son could grab and use whenever he was doing copywork.
"What *didn't* you include in your big Notebooks?"
Well, we didn't include Math because we use Teaching Textbooks which is done on the computer and in a pre-coiled math book.
We also didn't include dictation/spelling and grammar type work. These were all done in separate notebooks of their own. (Simple, cheap, 5 cent ones that I really regret using!) In hindsight, I kind of regret this system thought because now I have all these extra notebooks kicking around that I don't feel right about throwing away but I also don't know what do to with them – but it is a bit inevitable, I think. It would make more sense to have a binder to fit them into and keep them along with all the Notebooking Pages….
I will also talk about this with the binder vs. spiral bound notebook post. *wink*
"Did you ever notebook with a 6 year old? She doesn't know how to read or write
yet. I know my 8 year old son will eat this up I'm just wondering if a notebook will be a bit much for my 6 year old daughter. I'm picturing her notebook filled with drawings and the beginnings of words and copy work. Which excites me…"






"Do you incorporate lap book pages or other printables? If the child isn't particularly fond of or quick with cutting, do you pre-cut pages and small pieces to be used? How many pages do you use for each study? Do you incorporate

the FIAR notebook builder? Do you have a different notebook for each subject or just everything in one for one child until it's full? Your notebooks have been on my mind as we try to navigate them right now. We are just starting them and I'm wondering if I'm overdoing/overthinking… "
Are you interested in learning more about Notebooking? Here are some of the 'Helpful Links' I've shared in the past from NotebookingPages.com:
Are you experiencing burn-out? Has homeschooling become more of a chore than something you enjoy with your children? I love how Debra expresses the transparent truth so many of us live – homeschooling is HARD but there is hope.
Narrations and Notebooking are a winning combination, this post discusses the whys and hows.
What is busy work and how is it hindering your homeschool? Identify the busy work and set it aside…
What are narrations and how do they benefit the homeschool? This is a super detailed post covering all things narrations. (This site is seriously so amazing…!)
A great post all about how to implement copywork into Notebooking.
This article includes tips on how to approach writing within a Notebooking structure. This is very Charlotte Mason friendly, so, of course, I love it. This post talks about the importance of Oral Narration, how to approach Copywork and and Artwork. It also touches on the movement from Oral Narration to Written Narration and how to develop from sentence writing to paragraph writing within the Notebooking method.
Ideas for using Notebooking for Language Arts (copywork, poetry, etc.).