Spring Nature Studies with NaturExplorers – Nature Study made simple and meaningful!
It's Spring!
Sort of. I mean, we did have snow this week, but it is officially Spring according to the calendar, so, I'm hopeful! So, it's time for me to share some of NaturExplorer's fantastic SPRING Nature Studies.
If you are looking for easy, hands-on, ready-to-go Nature Studies, the NaturExplorers units are a great option. I love sharing these resources because I get asked all the time about how we do Nature Study in our home and I just know so many Moms are looking for a hands-on, simple way to embrace Nature Study without having to come up with everything on their own! (I hear ya!)


What is included in the NaturExplorer Units?
There is SO much in these amazing unit studies!
These are very
Charlotte Mason-friendly.
Cindy has packed the pages full of incredible ideas and inspirations to jump start all kinds of nature study as well as notebooking and nature journaling. The guides are easy to use and very well laid out. They are also good for quite the age range, with ideas to carry you from preschool to even high school depending on how you use the information and how you direct your student.

Some of the elements include:

Getting Started – Literature Launch gives a list of recommended children's literature to inspire and introduce the concepts of the study (love this so much!), Inspiration Point and A Bit of Background offer the 'teacher' a chance to gain quick and easy basic understanding of the motivation behind the study and some background knowledge before heading into nature study both in and out of doors.
Getting Outside – Nature Walks and Outside Activities (the core of the curriculum) is the section where Cindy has written so many great topic-related ideas for getting outside! This is exactly what I was looking for since the simple, "Hey let's go for a walk," doesn't always captivate my kids anymore.

Branching Out – This section goes more in depth and, well, branches out on the topic of study. There are many ideas for hands-on science experiments and activities, vocabulary and scientific concepts (this one includes a look at Allen's Rule, Bergmann's Rule, The Egg Rule, and Gloger's rule, along with discussions and activities for the concepts of adaptation, camouflage, how to make your yard animal and bird friends, and much more.)

In the Branching Out section, you will also find a ton (really!) of ideas for research, study and creative writing. The ideas are so many and so varied that I mentioned to my husband that I would surely keep these units for years to come and pull them out during the applicable seasons to use as a launching pad for Nature Study over and over again. Cindy gives hundreds of ideas that could serve as a very engaging springboard for all ages.
Bible, Poetry, Artist and Picture Study, and Composer and Music Study:
I love the Bible Lessons from His Creation section. This highlights multiple verses and chunks of scripture that relate to the topic of study. We used Matthew 6:28-30 as our copywork in our Nature Journals.

Poetry Place includes several titles of theme-related poems and suggested books of poetry. For this unit, we printed off all the poems and read them aloud. We used Something Told the Wild Geese by Rachel Field as a nature journal page and learned more about the Canada Geese from Handbook of Nature Study. when we used Coping with the Cold this winter.

I was so excited to discover the Artist and Picture Study References included as well. What a wonderful addition to any Nature Study! Cindy gives great suggestions for kid-friendly picture study with artists and artwork related to the topic. We really gravitated towards studying works by Robert Bateman for our Coping with the Cold unit and it was wonderful.

Composer and Music References offers some lovely ideas for music study related to the specific theme of the given Nature Study unit.

There are also many notebooking pages to use within your home and homeschool for each unit – so many I couldn't list them all! Each page pairs easily with the content within the unit study and can be printed off as needed!
Seriously, amazing resources!


My suggestions for Spring Nature Studies –
First, I want to share with you the NaturExplorers Bundles. These are a really inexpensive way to load up on tons of wonderful Nature Study resources that will last you way longer than one season (trust me on this one!). Many of the units work great in many seasons. I love that Cindy has made bundles so that we can get the best bang for our buck (so to speak) and grab 3 studies at once. Both the Early Spring Bundle and the Late Spring Bundle have awesome Nature Studies that will work through Spring, Summer, and into Autumn as well, actually!
Early Spring Bundle
Late Spring Bundle
Early Summer Bundle
Some more Ideas for Nature Study this Spring:
This Spring, we are diving into Everchanging Erosion, and over the Summer, I plan to do a bunch of Hard as a Rock. I'm sitting here flipping through the guides, so I thought I'd share some of the great ideas and resources in these two units. They both look fantastic!
Some of the ideas in the Getting Outside section include:
Go on an Erosion and Scavenger Hunt (and use the notebooking page to go along)
Draw an Erosion site that you visit and/or draw a small area map
Find examples of wind erosion
Look specifically for signs of erosion along a creek with a focus on bends in the creek bed (use the notebooking page that goes along with this)
After a heavy rain, observe a body of moving water for signs of erosion happening quickly because of the fast moving water, use the After the Rain notebooking page
At the beach, build a sand castle near the low tide – observe stages of the castle's erosion
There are also tons of ideas in the Branching Out section, including: experiments to show how water expands when it freezes, simulating ice, water, and wind erosion on a mound of dirt, a Lifesaver rock experiment, observing how sediment settles, a simulation showing how a cave is formed using sugar cubes, a landslide experiment, a water weight experiment, make clay models of various landforms, and many more.
On top of all this there are also suggestions for writing and research projects, poetry, music study, art and picture study, lots of notebooking pages, and ideas for including very young children as well as teens. Love it!
This study introduces us to types of rocks, the rock cycle, and various topics related to rocks and rock types. Activities include: keep records of interesting rocks you find and start a collection, compare and contrast different rocks you find, go on a fossil hunt, go on a rock scavenger hunt using a specific notebooking page, walk a dry stream bed in search of interesting rocks and pebbles.
Branching Out activities include: find the absorbency and volume of rocks, make sedimentary/metamorphic/igneous rocks to eat, create your own fossils from plaster, grow rock candy, build a rock wall around a flower bed, and many, many more ideas for looking under rocks as well.
As with all the NaturExplorers units, on top of all this there are also suggestions for writing and research projects, poetry, music study, art and picture study, lots of notebooking pages, and ideas for including very young children as well as teens.






A couple more that would be great for Spring –
I think Captivating Clouds could truly be done at any time of the year. I think we might launch into this in late Winter this year.

Here are just some of the ideas from Captivating Clouds: learn to identify different types of clouds, observe and journal clouds on a nature walk using an identification chart, keep a log of the cloud types you see every day, use a compass to identify the direction clouds are moving, learn about water vapour, identify shapes in clouds, observe and journal about colours found in clouds, write Haiku, sculpt clouds using clay, learn the five main cloud components, learn about condensation, evaporation, and precipitation, make 'fruit in a cloud' for a snack, and so much more!

For writing ideas, suggestions include: make a chart showing cloud levels and altitudes, create an accordion book about fog types, research, illustrate, and write a paragraph about Interesting Cloud Names, and several more engaging writing topics.

Multiple biblical references and readings are provided along with poetry suggestions. Art and Picture Study includes Van Gogh, Monet and Norman Rockwell, among others. Also has composer suggestions and numerous suggested fiction and non-fiction titles to work with the study of clouds.
We used this unit over the Summer last year and still have TONS left that we can do. It is full of great ideas for studying not only creeks, but streams, rivers, lakes, you name it. This would work well in the Autumn, as it is often recommended to study creeks and watershed areas in Autumn!
Incredible Creeks includes: looking at the Water Cycle, completing detailed observations on both a large and small scale plus accompanying Notebooking pages, Wading Scavenger Hunt, observing rocks and collecting pebbles, finding and exploring waterfalls, discussing the various parts of watershed areas, looking at tree roots, identifying and journaling about Wild Flowers, looking for signs of a Healthy Creek, looking at amphibians, monitoring and charting creek temperatures, and tons more.
There are also ideas for making a model of a creek, drawing a cross-section mural of a creek, and several really interesting science experience to help understand watersheds, erosion, and creek habitats. Writing ideas include things like creating lyric poems, researching and writing about a famous gold rush, and learning and writing about dams.
There are multiple scriptures included in the unit that relate to life, water, and God's care and provision for His children as well as songs
Some of the hands-on ideas in the Peaceful Ponds unit include:
Creating an underwater sampler, using a strainer to find live creatures in a pond, identifying specific pond plants and sketching and labelling parts in your Nature Journal, identifying and note booking the four main zones where pond plants grow, creating a map of your pond and surrounding areas, watching for birds/insects and create stories about their adventures, dissecting a pond plant, looking at pond water under a microscope, and looking at various pond animals.
There are scriptures tied into baptism, creation, and God's hand in nature. Poetry includes poems from Matsuo Basho, Alfred Noyes, and Eleanor Ferjeon and suggests a beautiful poetry book that specifically covers Pond Poems. Picture Study includes Claude Monet, Cezanne, and Rousseau, and Renoir!
There are over 25 amazing suggested read-alouds to go with this unit as well as numerous note-booking pages to print-out and use along with the hands-on activities and learning.
This is such a great resource! Who couldn't use 100+ 'easy and fun' Nature Walk ideas on hand to pull from? I have used this at the drop of a hat, literally as we're walking out the door. The ideas a varied in age range, length of time require, prep-time (most require none), and ease.
Some of the ideas include: ABC's of Nature (I recently posted about our ABC walk
here
), Adjectives Abound – describing things in nature using adjectives, Below My Knees- noticing and journal things found below 'knee' level, Collect and Create – collect things that are no longer living on your walk, bring them home, and get creative, Fly By- noticing and identifying things found in air, and on and on it goes! Honestly, this is an amazing Nature Study resource for any family to have on hand!
I highly recommend it!
I hope this is helpful as you embrace Nature Study this Spring!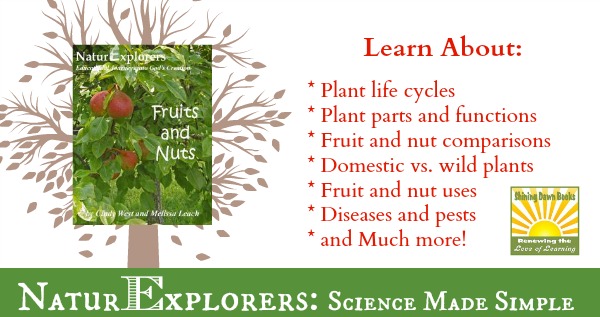 This post contains affiliate links.